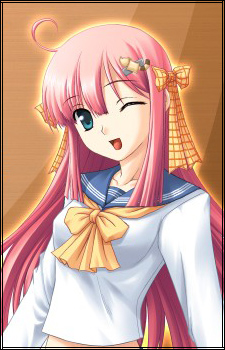 Yume is the youngest sister of the Kuonji siblings, with Miyu and Shinra being her elders. She also seems to show signs of being envious of Shinra's fondness towards Miyu. She tries to find her own unique personality and asks the others to make suggestions on what it should be. She is shown to be very sad about her seemingly boring personality, as her older sisters and everyone else around her have very distinct and eccentric personalities. She is quite attached to Natose and is her mistress. Yume usually refers to herself by her name, a typically childish trait. She has an overly active imagination, often writing them down or telling other people about them.
Repairing radio antennas
Reading Manga
Collecting Seashells
Writing silly imaginative stories
Slight interest in gardening
Appearance
Edit
Yume is usually shown wearing a school uniform, consisting of a white shirt with blue highlights, a yellow bow around her neck, a short blue skirt, long white socks, and some blue and white tennis shoes. She also wears a hairpin and 2 yellow bows in her hair. She has fair skin with blue eyes, and pink hair. She has a slim waist and her breasts are average sized.
Ad blocker interference detected!
Wikia is a free-to-use site that makes money from advertising. We have a modified experience for viewers using ad blockers

Wikia is not accessible if you've made further modifications. Remove the custom ad blocker rule(s) and the page will load as expected.