Ad blocker interference detected!
Wikia is a free-to-use site that makes money from advertising. We have a modified experience for viewers using ad blockers

Wikia is not accessible if you've made further modifications. Remove the custom ad blocker rule(s) and the page will load as expected.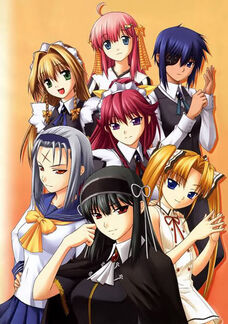 Welcome to the Wiki
==Welcome. I've made a wikia about they are my noble masters which is a funny anime show Please enjoy :) This is also my first wikia so I appologize if you don't like it. If you think it needs to be improved go ahead or comment. THANK-YOU :)==
What is this anime about?
They are my noble masters/ Kimi ga Aruji de Shitsuji ga Ore de is an anime about a young boy who runs away with his older half sister, Mihato . They are looking for jobs and he finds them both a job as a butler. There he makes friends and has funny adventures with his mistresses and the servents. At the same time he learns how to become a true butler. This is a funny anime comedy. Please enjoy.





 2.2
Latest activity